Precisa: Your One-Stop Shop for Laboratory Balances
What is a Laboratory Balance?
Laboratory Balances are an instrument used to determine the weight or mass of an object. Available in a wide range of sizes with multiple weighing capacities, they are an essential tool in almost every laboratory.
Precision and analytical balances are specific types of weighing balances which measure much smaller masses than the average scale. An analytical balance is the most precise because it has a higher readability, measuring to the nearest 0.0001g. Analytical balances usually include draught proof weighing chambers for precise measuring of mass and are often used alongside anti-vibration tables to increase accuracy. A precision balance on the other hand typically measures to the nearest 0.1-0.01g but has higher capacity. Both can measure capacities from hundreds of grams to kilograms. Furthermore, our semi-micro balances offer a 0.01mg readability balance, 5 place balance or 0.00001g readability with capacities of up to 225g with internal calibration.
Due to their high precision and advanced technology, these balances are used specifically in laboratories in order to efficiently perform tasks such as weighing test materials and sampling amounts, formulation, density determination, purity analysis, quality control testing and material and conformance testing. Balances with higher capacities are not used in laboratories but are used to test larger high-capacity weighing materials such as in construction sites.
Our new Series 520 PB Balances is one of the most important innovations in weighing technology in recent years. The Precisa PHASTbloc™ weighing cell allows users to benefit from advanced technology and provides a technically perfect, easy-to-use, attractive, economical and sustainable balance.
Why not browse our wide range of analytical, precision and semi-micro balances via the links below: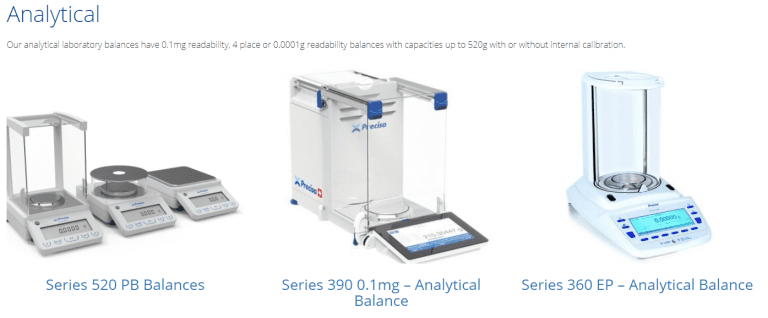 Laboratory Moisture Analyser
A Moisture Analyser is an instrument used for the determination of the moisture content of a sample consisting of an infrared weighing and heating unit. A Moisture Analyser performs moisture analysis by using the 'loss on drying' (LOD) method. This is the most common method for moisture analysis whereby the sample is weighed using the balance unit before and after the removal of moisture. This is done by the continuous recording of the weight while the sample is heated and dried using a halogen lamp or other infrared radiator. When the sample no longer loses weight, the difference between the two weights is measured, which is used to calculate the moisture content. This is also known as the thermos-gravimetric principle.
Providing fully automatic moisture analysis, our top of the range Series 330 XM models are all compact and robust, providing high quality, fast, error-free moisture analysis, using the highest degrees of precision and measurement performance.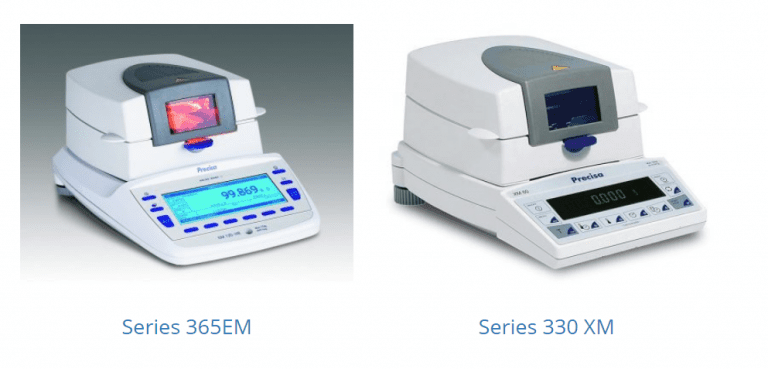 Laboratory TGA Analyser
The Thermogravimetric Analyser (TGA) is an essential laboratory tool used for material characterisation by Thermogravimetric analysis. This is done by determining a material's thermal stability and its fraction of volatile components by monitoring the weight change that occurs as a sample is heated at a constant rate. The determination of dry weight and ash is one of the most important parameters in the analytical testing of various materials and substances. In food, pharma, paper, coal, chemical and many other industries, moisture and ash content help to identify physical qualities of a product and its price.
The new generation of prepASH series 340 Thermo Gravimetric Analyser from Precisa frees up resources in the lab and reduces costs and time of analysis. PrepASH Thermo Gravimetric Analyser is a fully automatic analysis system for thermogravimetric determination of dry weight, volatiles and ash. It intelligently unites into one system; the functions of a drying oven, muffle furnace and analytical balance, controlled by advanced software and a colour touch screen. In one working cycle, 12, 19 and even 29 samples are dried and ashed fully automatically, resulting in up to 80% time savings.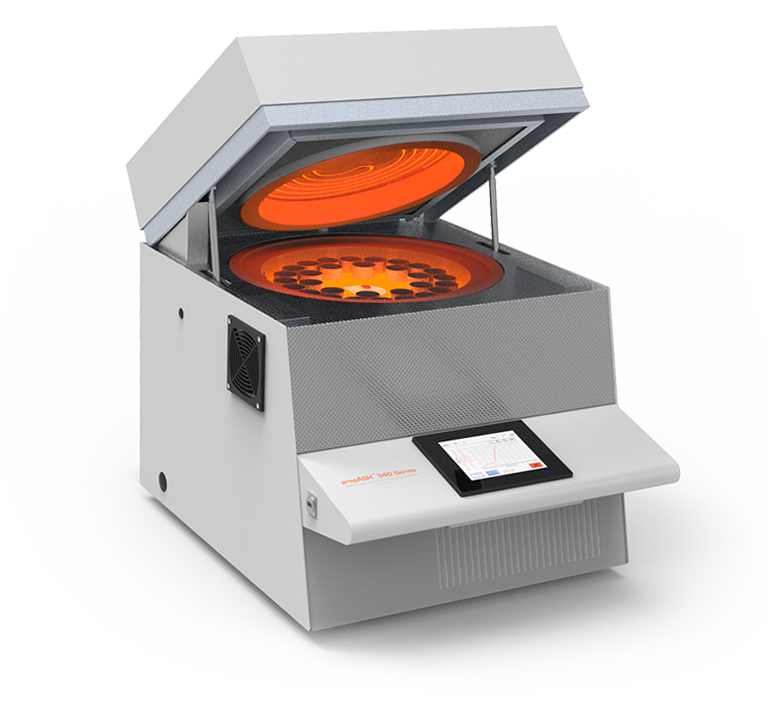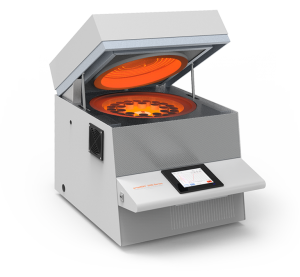 Get in Touch
If you are looking to supply a laboratory with the latest cutting-edge solutions and top quality services, why not contact us today for a quote or for more information. We look forward to hearing from you.
Or if you would like to stay in the loop regarding the latest products and news from Precisa, please take a moment to follow us on social media and sign up to our infrequent eNewsletter today.