How To Create a Method With The Series 340 Thermogravimetric Analyser
At Precisa, we want you to get the most out of your equipment. Therefore, we have put together a quick video demonstration to provide some guidance on how to create a method using The Series 340 Thermogravimetric Analyzer.
Click the "Method" icon
Click the "Create New Method" icon
Enter time duration and end temperature for the first program step
Continue to add program steps as required
At the end of each step, select the Results and Auto Stop if required
Continue to build the method as required
Click 'Save'
Define how results should be displayed and click to confirm
Define the events on completion of the program
Click to confirm
Specify file name and click to confirm
The Series 340 Thermogravimetric Analyzer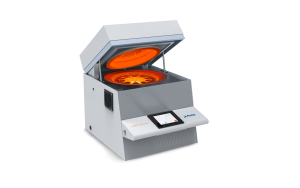 The prepASH® TGA Thermogravimetric Analyzer by Precisa combines high performance, ease of operation, precision, and integrity of measurement to maximise time and accuracy in Thermogravimetric analysis, as well as traceability in all measurements.
Further Guidance
If you require further guidance with your Series 340 TGA, please get in touch, and a member of our team will be happy to help.