Application Note: Lactose Analysis for Pharmaceuticals
Lactose is a common substance widely used as a filler or filler-binder in the manufacture of pharmaceutical tablets and capsules. The analysis of moisture and sulfated ash within pharmaceuticals is essential to ensure that the quality of drugs meets the guidelines set out by the European Pharmacopoeia.
Sulfated Ash Test European Pharmacopoeia
"The test ensures that the substance to be examined has a content of inorganic cations capable of forming non-volatile sulfate salts, which is below the limit defined in the individual monograph. These unintended cations could either be present as a consequence of contamination, but most often they will be residues of inorganic reagents and chemicals used in the synthesis of the substance to be examined. So the typical residue contained in the sulfate salt is the most widely used alkali metals, sodium and potassium. Since these cations are in most cases easily eliminated in the purification steps, the test gives a very important insight into the general quality in the production process of the substance to be examined, and it is therefore referenced in several hundred monographs. The test is predominantly used in testing chemically pure substances, whereas the limit test 6.14. Total ash is used for vegetable drugs. The sulfated ash is preferred to the total ash and other ashing procedures (see 6.14. Total ash) since it gives a more well-defined ash and thereby a more reproducible result. In a few monographs the test is used as a way to determine, for example, sodium deliberately present in the substance to be examined as a counter-ion."
In this application note Precisa's prepASH 340 Series sulfated ashing system is used to determine the ash content of lactose for use within pharmaceuticals.
Materials and Methods
Tests were carried out using the prepASH 340 Series.
The Series 340 EM prepASH thermogravimetric analyzer (TGA) automatically measures moisture, ash and loss of ignition at reduced workload and costs. The entire process is monitored and recorded from start to finish in a closed system. The prepASH is designed as an autonomous device and does not require any additional PC.
Lactose Analysis
Automatic fuming of sulfuric acid under controlled conditions within closed prepASH.
Moisture and sulfated ash within 3.5 hours.
Step
Temp 1
[°C]
Temp 2
[°C]
Gas
Gas Flow
[I/min]
Time
[min]
Auto Stop
[1/min]
Manual Stop
Result
1
20
300
60
2
300
300
60
3
300
600
60
4
600
600
370
0.5 mg/10
Reside [%]/Start (A)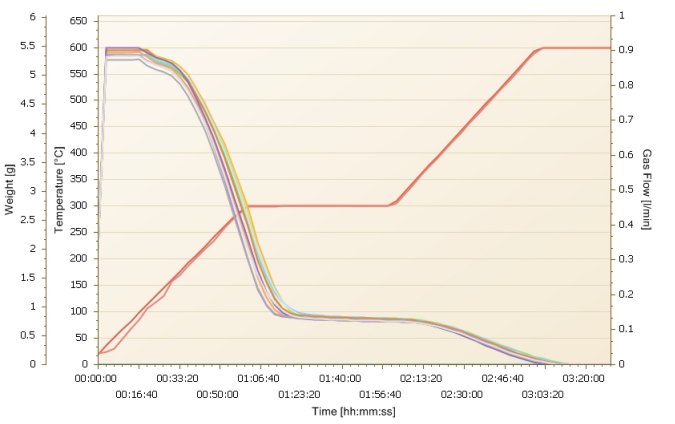 Result:
Group
Pos.
Sample

ID

Tare
[g]

Weight
[g]

Result

Weight
[g]

Calc.
Time
1
1
501982aus678088
–
40.0333
2.049
A
(AS) 0.0003
0.015
03:22
1
2
501982aus678088
–
38.7963
2.0519
A
(AS) 0.0002
0.010
03:26
1
3
501982aus678088
–
41.1973
2.0528
A
(AS) 0.0004
0.019
03:26
1
4
501982aus678088
–
40.8934
2.0919
A
(AS) 0.0006
0.029
03:29
1
5
501982aus678088
–
39.4966
2.0919
A
(AS) 0.0003
0.014
03:30
1
6
501982aus678088
–
41.1511
2.0248
A
(AS) 0.0004
0.020
03:26
1
7
501982aus678088
–
38.8552
2.1027
A
(AS) 0.0005
0.024
03:27
1
8
501982aus678088
–
37.8869
2.0124
A
(AS) 0.0003
0.015
03:24
1
9
501982aus678088
–
38.9983
2.0493
A
(AS) 0.0003
0.015
03:21
1
10
501982aus678088
–
38.577
2.0228
A
(AS) 0.0004
0.020
03:24
1
11
501982aus678088
–
38.3618
2.0538
A
(AS) 0.0004
0.019
03:21
1
12
501982aus678088
–
39.0446
2.0151
A
(AS) 0.0002
0.010
03:25
Statistic:
Group: 1
A-Result
A-Calc:
Res[%]/Start
mean
0.00036
0.01743
std
0.00012
0.00553
rstd
32.49768
31.72056
n
12
12
Thermal Analysis of Pharmaceuticals
Representing the highest level of thermo-gravimetric analysis, Precisa's prepASH Series 340 offers revolutionary improvement of sample preparation, analysis and documentation. It is the optimal solution to determine sulfated ash. With improved safety and efficiency there is no longer the need for dangerous ash analysis with open flames.
For further information on Precisa's Series 340 prepASH, please contact us today.
Thermogravimetric Analysis Application Notes
If you have enjoyed reading our Application Note on Lactose analysis for Pharmaceuticals, you may also enjoy the following articles:
Download Application Note
Download the complete Application Note: Lactose Analysis for Pharmaceuticals
Series 340 | TGA
If you would like to find out more about TGA Analysis we have an excellent range of Thermogravimetric Analysers that could accommodate your needs on our website. For further information, please contacts us, we will be happy to assist.
Keep in Touch
If you have enjoyed reading this article and wish to stay tuned for future research and news from Precisa, why not follow us on social media – LinkedIn, Twitter – or sign-up to our newsletter today?