Analytical Results of Moisture and Ash Determination with prepASH® in Conjunction with Participating Laboratories
Sample Material
As part of the VDLUFA Feed Inquiry 433 Q, three samples were provided for examination: two compound feeds, one dairy cattle feed, one mineral feed. For each sample, 4 raw ash results were required calculated on 100% dry matter. In this context, the humidity was determined only for the calculation and not for the overall assessment.
Analytic Conditions – Laboratory 91 with prepASH® (see graphics) Automatic Humidity and Ash Determination
Humidity and Crude Ash Parameters for Sample 433Q A, B & C
The samples were analysed with the fully automatic prepASH® drying and ashing system from Precisa. Here, a temperature program of up to 10 freely definable temperature steps can be created. Over the entire measuring time, weighing curves are recorded by the system for each individual sample, thus omitting cooling processes in the desiccator. At the same time, this enables the automatic determination of the constant weight throughout the drying and ashing process. For the analysis according to Regulation (EC) 152_2009; App. III, A, M approx. 2g sample have been weighed and analysed by the following temperature program:
Step 1: Increase from room temperature to 103°C in 20 min
Step 2: 3 hours drying at 103°C
Step 3: Automatic determination of constant weight at a level of 1 mg/30 min at 103°C. Switch to step 4 after a maximum of 1 hour.
Step 4: Increase from 103°C to 550°C in 20 min
Step 5: Ashing for 2 hours at 550°C
Step 6: Automatic determination of constant weight at a level of 1 mg/30 min at 550°C.
End of step 6 after a maximum of 5 hours
Comparative Results for the Parameters Moisture and Crude Ash of the Examination of the Public Part
Laboratory 91: Precisa Gravimetrics GmbH – Application Laboratory Nidderau
Feed supplement for cattle fattening
A: Crude ash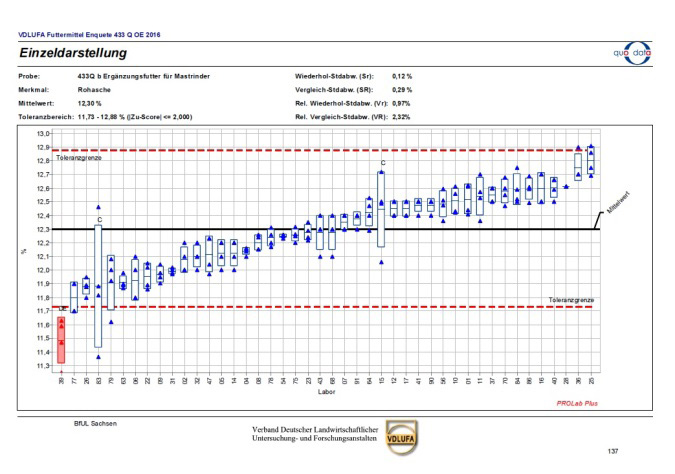 B: Moisture
2. Feed for fattening Turkeys
A: Crude Ash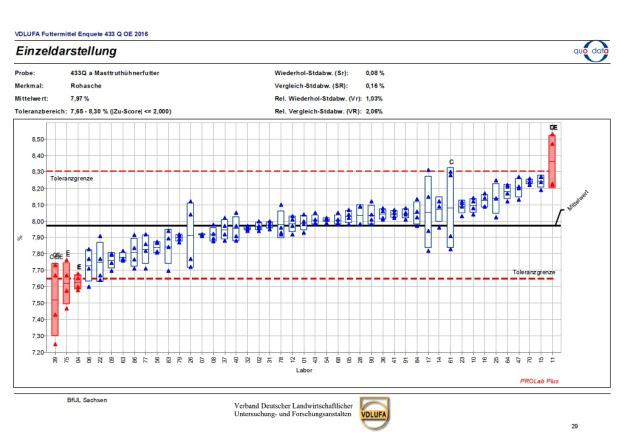 B: Moisture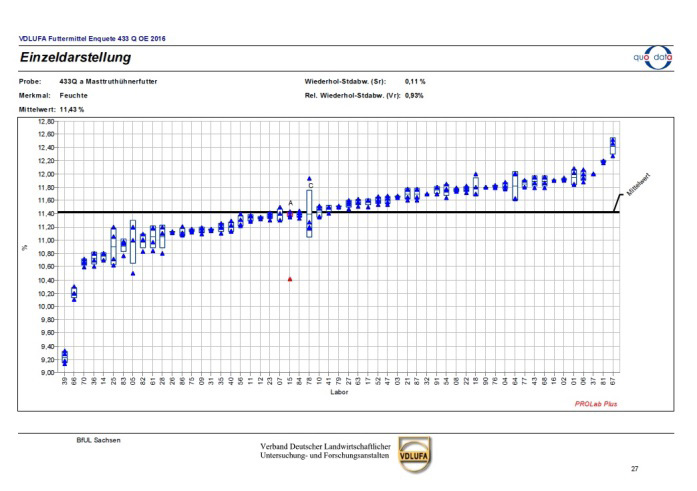 3. Mineral feed for pigs
A: Crude ash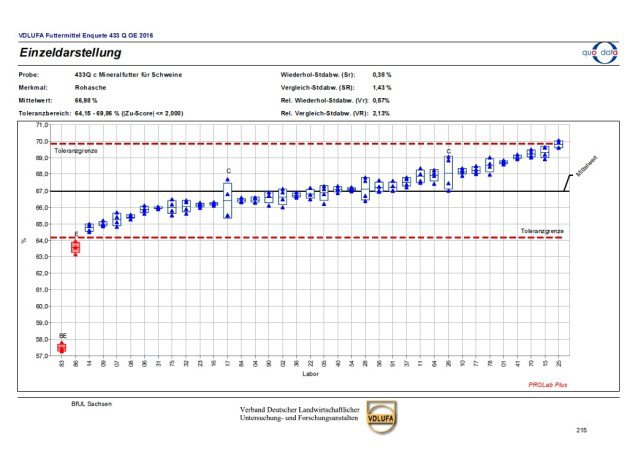 B: Moisture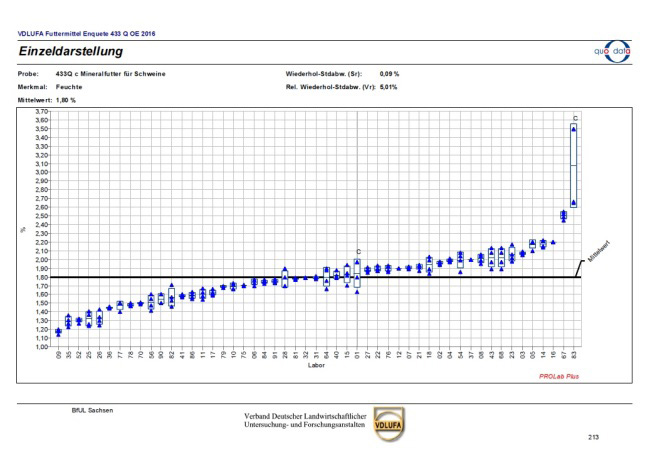 Conclusion
The evaluation carried out by the State Operating Society for Environment and Agriculture (BfUL), presented below, confirms both the high accuracy and precision of the prepASH® measurements which were carried out in Precisa's application laboratory in Nidderau near Frankfurt. The results are very close to the total mean (see graphics, Laboratory 91). The scatter of the 4 analytical values is very narrow. As such, the use of this automatic analysis serves as an optimal alternative for non-automated methods. All measurements conform to required standards. Please contact us for any additional information you require.
Further reading is available from:
H. Horst: Nachweis der Gleichwertigkeit zweier Analysenverfahren: Bestimmung von Wasser-und Rohasche-gehalt, nach dem Methodenbuch III und einem automatisierten Verfahren; www.vdlufa.de; Kongress 2015, Kongressband, S 692.
Series 340 | TGA
If you would like to find out more about TGA Analysis and ash determination we have a excellent range of Thermogravimetric Analysers that could accommodate your needs on our website. Please don't hesitate to get in touch, someone from our team will be happy to assist you.
Keep in Touch
Alternatively, if you have enjoyed reading this article and wish to stay tuned for future research and news from Precisa, why not follow us on social media or sign up to our newsletter today?