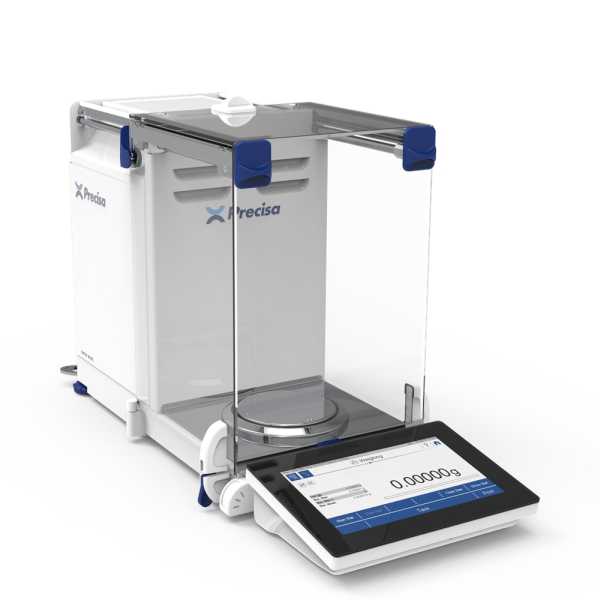 Series 390 HM 125 SM
0.01mg ▪ 125g ▪ Semi-Micro Balances
Item No. 390-9104-001
INTUITIVE – ERGONOMIC – EFFICIENT
With an easy to use menu, similar to the best smartphones, you will become familiar within seconds with your unique balance and exploit its full potential.
Capacity up to 225 g
Readability of 0.01 mg or 0.1 mg
Touchscreen interface
Ultra low weighing pan for ergonomic use
You can build your balance with those applications and features that suit your individual needs and requirements. We have four different Precisa 390 models: HF, HA, HE, HM.
Upgrades to the 390 series balances are always available, with various options, accessories and unique Precisa applications.
The draft shield windows are frameless and manufactured out of glass, offering you a barrier-free view and easier access into the weighing chamber. Removable glasses can be taken out for cleaning in seconds. Glass parts, all weighing pans and other components can be cleaned in a dishwasher.
Our new and brilliant balance series offers you best ergonomics, including an ultimate low weighing pan level, the lowest on the market!
Weighing processes can now be performed more comfortably, more ergonomically and with ease.
You can speed up your daily routine and help yourself perform the weighing tasks much easier by utilizing the integrated non-contact IR-sensors.
Thanks to the new load cell and the state of the art signal processing, the weighing results are shown unbelievably fast and visualized with our newly developed stability indication system. The new, by default built-in electronics, as well as all the optional accessories, will amaze you for years with the ultimate weighing accuracy.
Our user manual is built into the balance shown on the balance display and can be recalled and read at any time. Wherever you are with your balance, the user manual is always accessible to you.
We have expanded the same philosophy to cover everything in the balance series. We use colour coding throughout the instrument, starting from display, interface (UI) and mechanical components, that you know without hesitation where to open a clip or perform a software action, how to activate a draft shield movement or how to set remote the touchscreen.