Reduce Time and Costs with Precisa's prepASH Thermogravimetric Analyser
Qualified laboratory staff are often overworked in the lab and frequently several analysis systems have to be operated at the same time with analysis protocols provided and results evaluated. The pressure of time and cost is a strain on laboratories and staff. The solution to this problem lies in the simplification and procedure's optimisation of the routine parameters determination. Often the analysis procedures for dry weight and ash determination mean that laboratory staff are occupied for too long carrying out analysis and that analytical costs are usually higher than the calculated values. The target objective must be to simplify this procedure by offering a less complex and time-consuming solution that reduces overall costs.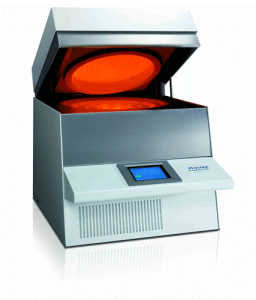 prepASH 340 – The Solution
The 340 Series is a fully automatic analysis system for thermo gravimetric determination of dry weight and ash. The prepASH intelligently unites into one system – the functions of a drying oven, muffle oven, analytical balance and evaluation unit. With the model 229 you are able to determine the dry weight and ash of up to 29 samples in one run. It is possible to pre-define the very complex operational sequences (temperatures within the range of +50 °C to +1000 °C, optionally process gases, up to 36 hours total analysis time) with any number of program steps and let the instrument work automatically.
Save Time: As soon as the samples are weighed in the prepASH, the system works automatically according to the program sequence set by the user and then calculates the results. Time-consuming manual operations like the back weighing of the samples, the sample handling (pre-ashing, loading or unloading of drying furnace, muffle oven, desiccators) are removed and reduce the expenditure up to 80%.
Create clearance/flexibility or new time management: prepASH works completely autonomously once it is loaded and started. This offers the user a completely new time management option as the analysis can be run at different time periods which were not used preciously (e.g. at night). By the permanent recording of the measurements during the entire process and the automatic storage of the final results, weighing data is available at any time.
Eliminate potential error: Manual steps are the most frequent reason for inaccuracies. prepASH 340 Series reduces these to a minimum; all transfers of the samples from drying oven, muffle oven or desiccators are eliminated. The samples are continuously weighed throughout the entire analysis to provide gravimetric precision using air buoyancy compensation.
Thanks to this fact the method-conforming analysis under optimised analytic conditions is possible and as a consequence provides improved repeatability and reproducibility. Critical samples can be treated with the optional process gas operation (purified Air/O2/N2) under definable conditions.
Full control and documentation: All 3 PrepASH 340 Series models work autonomously as stand-alone-units. They display the weight loss of each individual sample during the program steps and show these on the Touch Screen display. Beyond that all models can be connected through Ethernet interface to the network and be remotely monitored by prepDATA software on the PC. All data of the measurements are stored in the device and can be reproduced by means of memory stick or over the network on the PC.
Technical data
| | | | |
| --- | --- | --- | --- |
| Model | prepASH 229 | prepASH 219 | prepASH 212 |
| Number of samples, Crucibles | | | |
| Number of samples: | 29 | 19 | 12 |
| | | | |
| Weighing system | | | |
| Weighing range: | 120 g | 120 g | 120 g |
| Readability: | 0.0001 g | 0.0001 g | 0.0001 g |
| Minimal Sample weight: | 0.1 g | 0.1 g | 0.1 g |
| | | | |
| Heating System | | | |
| Temperature range: | 50 °C-1000 °C | 50 °C-1000 °C | 50 °C-1000 °C |
| Temperature stability: | +/-2% | +/-2% | +/-2% |
| | | | |
Areas of prepASH Application
Animal Feed
Agriculture (fertiliser, soil)
Wood and Paper
Building materials
Pharmaceutical industry (sulfated ash)
Chemical Industry (Plastics, Chemicals QC, rubbers)
Environmental (Soil, Purification of Sludge)
Coal/coke (Thermal Plants, Steel manufactures, Coal mines
Ore
Catalyst
Types of Customers
Government labs
Contract labs
Production sites
Central labs
Research/Education
Thermal plants
prepASH Thermogravimetric Analyser | TGA
If you would like to find out more about TGA Analysis we have a excellent range of Thermogravimetric Analysers that could accommodate your needs on our website. Please don't hesitate to get in touch, someone from our team will be happy to assist you.
Keep in Touch
Alternatively, if you have enjoyed reading this article and wish to stay tuned for future research and news from Precisa, why not follow us on social media or sign up to our newsletter today.