prepASH® Thermogravimetric Analyzer for Thermogravimetric Analysis
A thermogravimetric analyzer measures the change of mass of a sample over time as temperature increases. It is equipped with a balance to monitor the sample mass and a furnace for heating the sample chamber.
Precisa's prepASH® 340 Thermogravimetric Analyzer combines a precision balance, oven, desiccator, and furnace with modern automations in one unit. The prepASH allows easy analysis of up to 29 samples simultaneously, with smaller models also available.
What is Thermogravimetric Analysis?
Thermogravimetric analysis (TGA) is a type of thermal analysis where the mass of a sample is measured as the temperature changes over time. TGA analysis provides a range of information about the physical and chemical properties of a sample such as thermal stability, how sample composition changes with heat and the inorganic components remaining after all organics and volatiles have been burned off.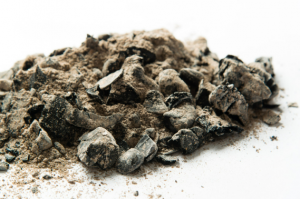 Why Choose the prepASH Thermogravimetric analyzer?
Precisa's prepASH thermogravimetric analyzer combines high performance, ease of operation, precision, and integrity of measurement to maximize time & accuracy during thermogravimetric analysis, as well as offering traceability in all measurements.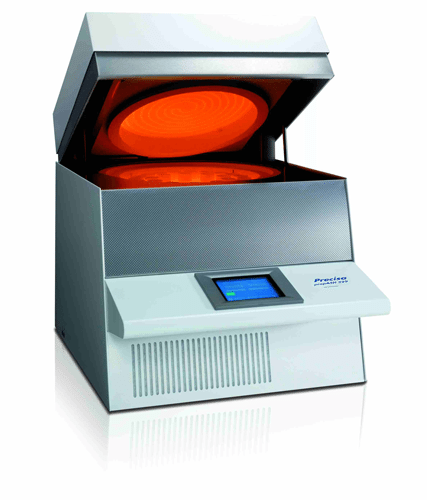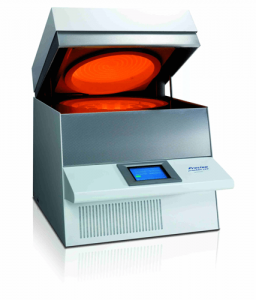 prepASH gives automatic TGA analysis of Moisture, Volatiles, Ash, Fixed Carbon Special application for Coal & Coke as per ASTM no D 5142-09.
Key Features include:
Minimal bench space required with standalone control – no need for separate PC
Freely programmable temperature profile and various stop-modes mean that each cycle can be specifically adapted to the sample undergoing testing
Built-in high performance analytical balance enables direct weighing-in and continuous control of the analytical cycle and end-point recognition
Dynamic TGA test measurement enabling early termination of run if weight loss ceases thus minimising run-times and reducing energy costs
Turn-table sample carousel and other features of construction provide homogenous temperature distribution and identical conditions for each sample.
Real time evaluation of loss of weight during the drying and ashing process is shown directly on the prepASH display and via network to external computer
The three new models in the prepASH 340 thermogravimetric analyzer series represent the highest level of TGA analysis. Combining a furnace, high precision balance and automation, the prepASH Series enables a huge reduction in workload through the simultaneous TGA analysis of moisture, ash and volatiles content for up to 29 samples. Not only does the prepASH reduce your workload and increase lab productivity, but the automation will also increase the reproducibility of your work and the considered design and set up will use minimal space in your lab.
If you would like to find our any more about our thermogravimetric analyzer, including the price and how it could work for you in your research, please contact our sales team who will be happy to advise you.
Further Reading
You may be interested in other articles about the thermogravimetric analysis and the prepASH 340.
Reduce Time and Costs with Precia's prepASH Thermogravimetric Analyzer
Customer Review: Senior QC Lab Technician at DSM
Customer Journey: Supporting Agronomic Research in Europe with prepASH
Keep In Touch
If you have enjoyed reading about our prepASH 340 Thermogravimetric Analyzer, don't forget to follow us on social media, or sign up to our newsletter using the links below.